Benefits
Design to make the best tortillas chips.
Whole grain gives the masa extra fiber to help improve digestion.
The masa's texture resembles the one made from Nixtamal grounded in stone.
Its aroma resembles the delicious savour of Nixtamal.
It has a great flavor, like fresh grounded corn.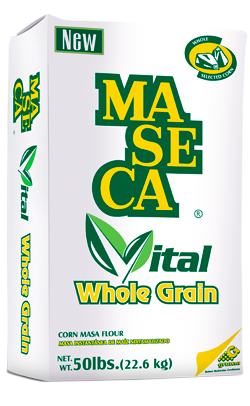 Description
Whole grain yellow corn masa flour manufactured according to our patented process of cooking, grinding and drying selected yellow corn.
Ingredients
Yellow corn masa flour.
Use and Applications
Tortilla Chip No 1 masa is designed for tortilla chips and offers the ability to adjust surface puffing and to control texture, oil content , and maintain consistent quality. Flour texture (granulation) is medium fine.
To obtain the desired machinability of masa, the customer may add from 80 to 90 lbs of water to 100 lbs of flour and mix during 4 to 6 minutes. This masa may be processed into different shapes and sizes, then baked and fried into finished product.
Some important advantages of using Maseca are based on:
Standardization of quality (water and oil absorption, particle size, color and texture).
Reduction of utilities cost, lower labor cost and better utilization of floor space.
Less operator skill requirements.
Improvement of sanitary conditions.
Reduction of daily start-up time.
No wastewater treatment cost.
Reduction in capital investment (less electric and plumbing facilities, less floor space, fuel requirements and lower equipment cost).

Packaging and Storage

This product is packed in 50 pounds multiwall paper bags.

It is recommended to store in a well ventilated, cool and dry place (less than 80°F and less than 60% relative humidity). Do not store next to products with strong odors.
Prolonged storage does require of a pest control system against insects and rodents.

Shelf Life

Shelf life is dependent upon storage conditions.
Anticipated shelf life falls within a range of 4 to 6 month from manufacturing date.



Typical Properties
Proximate Analysis
Moisture
9.0—12.5%
Protein
7.0—9.0%
Fat
3.0—6.0%
Fiber
8.0—11.0%
Ash
1.0—2.5%
Characteristics
Water intake
80 to 90 lbs @ 25°C per 100 Lb of flour
Mixing Time
4 to 6 minutes. (low speed)
Physical/Chemical Specifications
pH (10 % sl.)
6.0 — 7.0
Sieves Analysis:(ro-tap 6 min)
On US Sieve 14:
0%
On US Sieve
25:16% max
Through US Sieve 100:
40% max
Microbiology Specifications
Total Plate Count
< 100 000MPN/g
Yeast & mold Count
< 2000 MPN/g
Total Coliforms
< 100 MPN/g
Mycotoxins:

Fumonisin < 4 ppm
Aflatoxins < 20 ppb
This product is under the Kashruth Certification of the Chicago Rabbinical Council and Certified Kosher.