Benefits
High quality flour with a soft texture and tasty looking, ideal for making the greatest tortillas.
Preservatives are included for a longer shelf life.
Shares the same great reputation for quality and authenticity as traditional MASECA®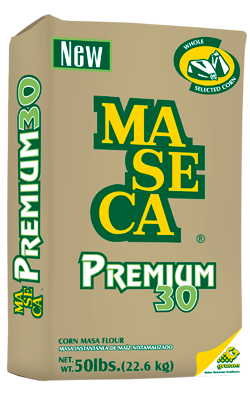 Description
This product is manufactured by our patented process of cooking in limewater, grinding and drying selected white corn.
Ingredients
Ground corn flour, propionic acid (to preserve freshness), guar gum, cellulose gum, benzoic acid (preservative), phosphoric acid (acidulant), and enzymes (to preserve freshness).
Use and Applications
Premium # 30 White Maseca flour is used for the production of typical Mexican table tortillas. It can also be blended in different ratios with coarser Maseca flours to develop a variety of products with a wide selection of colors and textures to satisfy the market needs.
This flour is readily converted into masa by simply mixing 100 lbs of Maseca with approximate 120 lbs of water for 5 to 7 minutes. This masa is processed into round thin cakes that are baked to form soft and tasty tortillas, or may be processed into different sizes and shapes, then baked and fried to obtain the finished product. This flour has an additive formulation that extends the shelf life of the tortillas to 30 days at room temperature and does not have a negative effect on the taste of the tortilla.
Some important advantages of using Maseca are based on:
Standardization of quality (water and oil absorption, particle size, color and texture).
Reduction of utilities cost, lower labor cost and better utilization of floor space.
Less operator skill requirements.
Improvement of sanitary conditions.
Reduction of daily start-up time.
No wastewater treatment cost.
Reduction in capital investment (less electric and plumbing facilities, less floor space, fuel requirements and lower equipment cost).
This product is Kosher certified.

Packaging and Storage

Maseca is packed in 50 lbs multi-wall anti-skid paper bags.

Anticipated shelf life for this product is 4 – 6 months, Shelf life is dependent upon maintaining good storage procedures, such as good housekeeping practices, handling product on a first in / first out basis, and storing product in a cool (less than 80ºF) and dry place (Lest than 60%). Prolonged storage does require implement a preventive pest control program against rodents and insects.



Typical Properties
Proximate Analysis
Moisture
9.0 - 12.5%
Protein
7.0 - 9.0%
Fat
3.0 - 6.0%
Fiber
6.0 - 10.0%
Ash
1.0 - 2.5%
Characteristics
Water Intake:
100 lbs flour ≈ 120 lbs water at 25º C
Mixing Time:
5 to 7 min. but do not over mix
pH (10% sl.):
4.60 to 5.10
Color:
White
Sanitary Aspects
Coliforms MPN/g
≤ 100
Yeast & mold Count/g
≤ 2,000
Std. Plate Count/g
≤ 100,000
E. coli MPN/g
≤ 0.3
Salmonella sp
-Negative
Aflatoxins ppb
≤ 20
Sieve Test*
On U.S. Std. Sieve 14:
0%
On U.S. Std. Sieve 25:
2% max.
Through U.S. Std. Sieve 60:
73% min.
*Ro-Tap (6 min.)