Tortilla Industry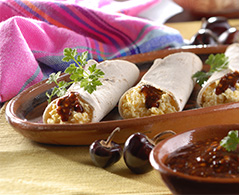 TORTILLA INDUSTRY
As the leader in the corn masa business, Azteca Milling offers you over 50 years of experience and the best quality corn masa flour for the tortilla and tortilla chip industry. You can also count on us for on-site technical support at no additional cost. After all, we both know that making tortillas is a matter of pride.
At Azteca Milling, your success is our success. Give us the opportunity to demonstrate our capabilities and merit your business. 
TORTILLA FLOURS
Both our MASECA® and stone ground Masa-Mixta® brand flours have set industry standards for quality and consistency in the preparation of tortillas, taco shells, tostadas, chips, and other related corn products such as tamales and taquitos. With over 50 varieties of corn masa flour from which to choose, it is easy to prepare virtually any masa-type product. We can provide you with products in quantities ranging from 50-pound bags to 80-ton hopper loads.
SEARCH TORTILLA FLOURS PRODUCTS
TORTILLA BUSINESS
Azteca Milling can provide excellent resources you can use to set up a new tortilla business or optimize production at your existing facility. We track industry trends to keep you informed regarding the latest developments in the tortilla industry. Although Azteca Milling doesn't directly sell tortilla-making machinery, the company can provide you with contacts to coordinate the purchase of the right equipment for your business.