Bakery Industry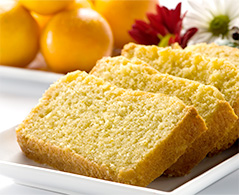 BAKERY INDUSTRY
Both our MASECA® and stone ground Masa Mixta® brand flours have set industry standards for quality and consistency. Additionally, they can be used for breading, batters, cakes, breads, rolls, cookies, crackers, pretzels, and many more baked goods. Azteca Milling, L.P. presents Pre-Gelatinized Corn Flour with the following superior benefits:
It has a breakthrough water-binding capacity, superior to wheat starch.
Its use will minimize "staling" and extend the shelf life of your baked products.
It can replace regular flour and other starches for more efficient production
It's a non-wheat-based product that is non-allergenic and gluten-free.
In conjunction with dairy protein, it forms a pseudo-gluten matrix.
Pre-Gelatinized Corn Flour is available in two formats: "bland," to maintain the same great taste of your products, or "corn," to enrich their taste with a subtle corn flavor.
All these advantages mean cost-savings to you. And as always, you can count on Azteca Milling's premium on-site technical support at no additional cost.
BAKERY FLOURS
Both our MASECA and stone ground MASA-MIXTA brand flours have set industry standards for quality and consistency. Additionally, Azteca Milling produces yellow or white fine granulation corn masa flour for ESL (Extended Shelf Life) applications with a patented preservative/hydrocolloid system designed specifically for the shelf life extension of baked goods. The preservative/stabilized system is taste- and odor-free with unique functionality and is described as Premium #10 Yellow or Premium #10 White Corn Masa Flour in the Products section of this site. If you are interested in ESL, please contact us.
We can show you our product functionality in baked food technology as applied to breads/rolls/biscuits/buns, cookies/crackers, sweet goods, batter/breading, baked salty snacks, and several non-traditional prepared foods. Our product technology allows you to develop highly functional products that crossover your current marketing platform into the Hispanic market while still capturing the mainstream popularity of finished baked food products. Add to this the values of nutrition and health – whole grain corn, hypo-allergenic, no trans fats, natural, high fiber/protein, low fat (with Omega 6 and 9) – and you can see the many advantages Azteca Milling's products can offer you.
BAKERY BUSINESS
A new method of baking? Yes! Open up great new possibilities for the world of baking with Azteca Milling's pre-cooked masa flour. Create new products that range from breads and rolls to sweets and cakes. Besides being low in fat, cholesterol free, hypoallergenic and a good source of natural fiber and calcium, our pre-cooked masa flour has a taste and texture that will resonate with the growing Hispanic market. Other advantages include minimized staling and extended shelf life.
Contact one of our bakery experts and learn how pre-cooked masa flour can add value to your finished goods and profits to your bottom line.