Selecta®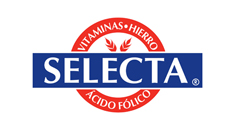 SELECTA® is an extra-fine, all-purpose wheat flour made from specially selected wheat and processed according to the most demanding quality standards.

Enriched with vitamins and iron, SELECTA® is Mexico's leading wheat flour brand. It is perfect for making flour tortillas, cookies, cakes, or pasta, and you can use it in any recipe that calls for wheat flour.

You want to serve your family delicious and healthy foods. Preparing recipes with SELECTA® is one way to give them your best. Use SELECTA® when making your recipes and see how flavorful your baked goods are straight from the oven – warm and delicious. Your family and friends will appreciate the wonderful smells and tastes from your kitchen, and you will appreciate SELECTA's versatility and quality. For recipe ideas, please visit RecetasSelecta.com and discover many new ideas sure to become family favorites!